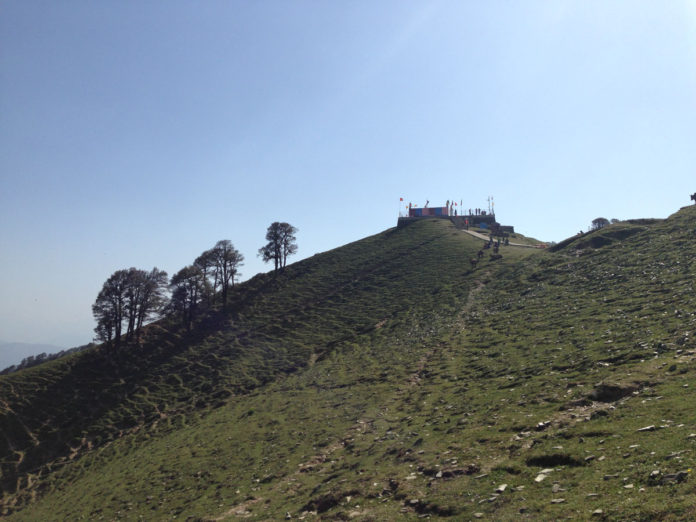 Shikari Devi is the highest peak of Mandi district and there is a temple of Shikari devi on the top of hill.
---
Forest and wild life is protected under Shikari devi wildlife sanctuary, which provide home to various wild animal and birds some specific himalayan species. Most of the time Shikari Devi hills are covered with snow, as there are heavy snowfall in winter. The area is totally uninhabited and forest land, only some peoples put stall for selling goods only in the season time when people visit temple in summer. Most of the visitor are here for religious faith, only few come here for adventurous and for nature. Few few opted trekking as for now Shikari Devi also connected with road up-to some extend after that only small hill climbing about 1 Km.
---
Our Journey
We started our journey from Mandi, our target was Shikari devi, but we have to stay in the middle so that we could start early morning trekking.
We chose much difficult route for trekking, there are also other treks available but we were chose Devidarh to Shikari Devi, very few people except local know this route from Chailchowk/Mandi side, there are other treks from Karsog and Jenjehli side.
From Mandi we were 4 friends but the other two left for Mandi from Devidarh, so we were two friend who had planed to trek up-to summit, we reached in the evening at Devidarh from Mandi through Chailchowk, Kot, Shalla, Jachh, Jahal and last our stay point Devidarh (PS: This village have very nice and beautiful, which can be expore for tourism, read more about Devidarh). We had a stay at guest house after exploring Devidarh and surrounding areas we took rest as we had to woke up early to start our journey.
---
Trekking start early in the morning, we hadn't know the path so we start by guessing and asking local people who had met on the way as there are some village at the start. It was very difficult for us to climb against the less sloppy hills. The journy was very beautiful as we were in the thick forest and there were no one except us, it was really scary when we saw some foot mark of big wild animal probably a bear.
---
Soon we realized that we had lost our way and found our-self in the middle of forest, so we decided to keep going upto the top of hill so that from there we can see which direction to go. This was the most awful moment when you realize you lost somewhere and no one is there to help you even no mobile signal was there on our phone. On reaching top, we recognize the way but we had cover extra distance so far and also had to cover more extra distance. That's the real adventure when you face challenge. On the way we ate wild strawberry which found abundantly in the forest of Shikari devi.
---
We took some rest on the top of hill near to the main hill, as on the top there are no trees only grassland in summer due to heavy snowfall in winter, taking some rest we stated our journey to our last stop for the top of main hill where temple of Shikari Devi. It was total 6 hours journey from Devidarh, but if we had not mislead then it will be around 3 to 4 hours. On return we took around 3 and half hour to finish our trek but again we chose different path along the river stream down from the hill upto Devidarh which is best route. next time we will use that path to trek.
---
There is also a trek route from halfway to Kamrunag. If someone want to trek both the place in one day he can go for this after finishing Shikari devi. You should take some food items and water with you for the trek as there is nothing in the forest except wild strawberry, there chance is also less as there are many sheep and goats who eat those, and also fruit is seasonable.
After accomplishing our trek we left for the Mandi from Devidarh after some refreshment, it was very nice trek and we really enjoy roaming in the forest and togetherness of nature, very good trek for nature and adventure lover.
Some pics from the trek