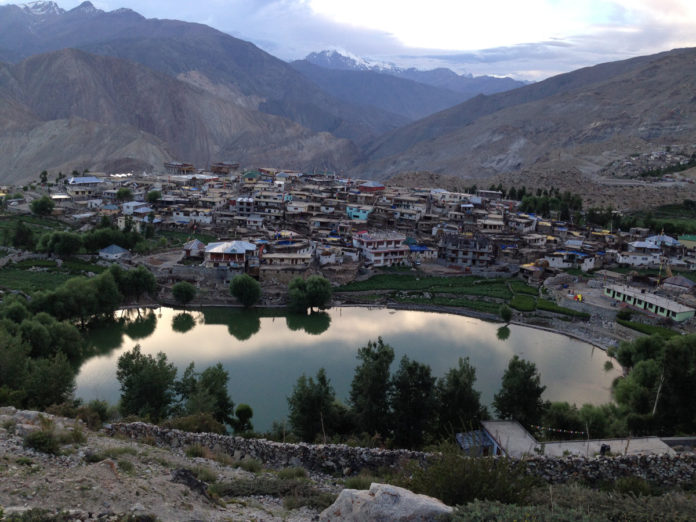 Nako Lake at an height of 3662 meters above sea level is one of the high altitude lake in Kinnaur district of Himachal Pradesh. Nako Lake is beautiful fresh water lake fed with glacier water surrounded by willow and poplar trees.
General information and History: Nako village is the largest village of Hangrang Valley, near the lake there are four Buddhist temples. Near this place there is a foot like impression ascribed to the saint Padmasambhava. Several miles away there is a village called Tashigang around which there are several caves where it is believed that Guru Padmasambhava meditated and gave discourse to followers. There is a waterfall nearby which has snow water falling like a river of milk. Legend says that it is a heavenly realm of fairies. In one of the caves you are still able to see the live footprints of these fairies or other demigods. It is a sacred place for the people of these valleys. Followers come from as far a place as Ladhak and spiti valley.
---
Journey to Nako Lake
Nako Lake was in our plan and must visit place in our trip to Kinnaur and Spiti. After Sangla our next stop was Nako lake, we thought, we will cover 150 Km in about 5 hours but we were wrong, this road is world's most treacherous and adventurous, you must be careful and fully prepare, mentally and physically to drive through this dangerous highway.
Nako lake is about 100KM from Kalpa and 110KM Reckong Peo the District headquarter of Kinnaur district. This road is for expert driver who has good driving skills, road goes along Satluj river.
We had a lunch at Spillo village on the way and keep our journey continue, We had a quick break at Pooh village and had photography session at such a unique landscape, we had a thought how hard to survive in such difficult terrain.
At Khab we took left turn toward Kaza leaving national highway 22, but the condition of the road remains same and now we were moving along Spiti river, even though the condition of the road was not good but the wonderful landscape and cold desert keep our spirit high and excited about to explore more, there are so many beautiful location on the way like snow clad high mountains, rocky cliffs, sand slops and most beautiful apple orchards in no vegetation land.
We reached Nako in the evening, after getting rooms at home stays available in the village we start exploring Lake and village, please see the photo galley for visual journey. We had a small trek as well above the lake which provide splendid view of Himalayan mountains, there is a revolving tower will bell which is associated with Buddhist religion. The view of the lake and village is magnificent, seems like a jewel in the mountain desert.
Local people are very nice, helpful and cooperative.
At least one full day is required to explore, lake, village, monasteries, local culture and sight seen.
Please watch the video highlights of our whole journey
---
Video – Sangla Valley to Nako Lake Kinnaur Himachal Pradesh
---
How to reach Nako Lake:
Distance from Shimla:- 307 Km
Distance from Kalpa:- 100 Km
Distance from Kaza:- 112 Km
Nako Lake is on Shimla Kaza road, can be accsible from Shimla and Kaza as well, Shimla is well connected to the major cities of India.
Best time to Visit : The best time to visit Nako Lake is summer specially May end to Sept. Keep warm clothes along with you in the high land.
Where to stay : Small hotels, guest houses and home stays are available at Nako village with Indian and Tibetan foods.).
Thanks for reading, keep visiting for my blog for new journey with me.
---
Here are some of the pics from the trip