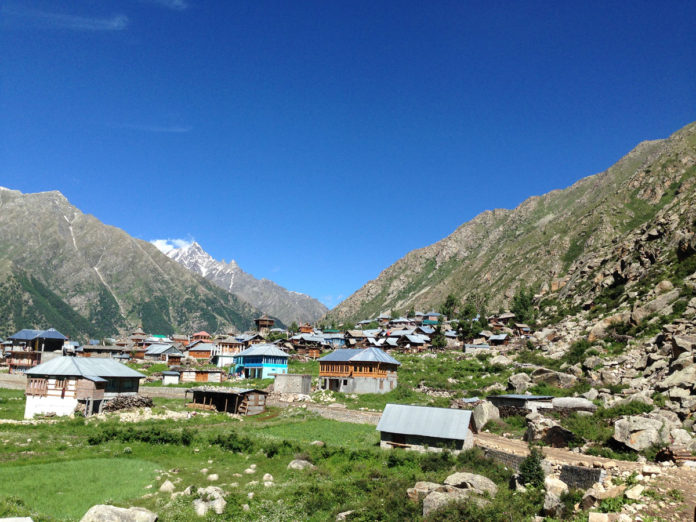 Sangla Valley is one of the most beautiful valleys of Himalayan region, Magnificent and unique panoramic views can be seen only here, due to the tough condition of roads and terrain this valley is not easily accessible. Sangla Valley is paradise for Adventure lover.
Sangla valley starts from Karchham along Baspa river, some time it is also called by Baspa valley, Sangla town is the main town of this valley which have all of the facilities, The valley is surrounded by forested slopes and offers views of the high mountains. Most of the villages are along the Baspa river upto the last village Chhitkul and Sangla valley is rich in apple orchards, apricot, Wall-nut, Cedar trees, and glacial streams with trout fish.
---
Places to visit and activities
Kamru Fort at Sangla: The Kamru fort is about 2 KM from Sangla town at an altitude of 2600 m. It is located in the picturesque location of the Sangla Valley and is entered through a series of gates. At the main gate of this fort is a large image of Lord Buddha that welcomes you. There is also a wooden balcony at the top of this fort along with an idol of Kamakhya Devi installed in its third floor.
Sangla Buddhist Monastery: The monastery in Sangla is one of the famous place to visit. It is also known as Brelengi Gompa in Sangla.
Bering Nag Temple at Sangla:This is the temple of the local deity situated in the centre of the village. The Bering Nag Temple is another popular temple and religious sightseeing destination of sangla. Its famous for Fulaich fair, held here every year between the months of august and September.
Rakchham Village: This village is also very beautiful and situated along the bank of Baspa river, famous for a signature walk of the valley, this route was once used regularly by the villagers from Batseri to go to Rakcham. It is a fascinating walk through a wide variety of flora. If the trek is done before June, one also gets to cross two tails of glaciers coming from the top to meet the frisky Baspa. Takes about about 4 hours
Baspa River: The Baspa River is a fast flowing river that passes though the hills of Sangla. The surroundings of Baspa River provide an opportunity to view timely rainbows and brown trout. It is also an angler's paradise for being home to a vast variety of fishes. October is the best time to angle for Brown and Rainbow Trouts. Crossing this river is also quite an attraction among-est the visitors as this process involves ride in a basket along the way. Its surrounding areas also stand appropriate for campers and trekkers. A walk along the Baspa River offering stunning views of the valley, overlooking Himalayan peaks and Baspa River.
Sangla Meadows Trek: Sangla Meadows is a full day trek (Medium difficulty level) from Sangla that passes through Glaciers and some of the most stunning scenery of the area including panoramic views of the Kinner Kailash range of mountains. Overnight camping can also be considered. This trek is about 6 Km.
Rupin pass Trek from Sangla:Rupin Pass is a high altitude pass across the Himalaya mountain range over an height of 4650M above sea level, considered as difficult trek route. The trek begins from the lovely valley of Sangla in Himachal Pradesh and moves onto Uttarakhand via Rupin pass, it took around 7 days to complete this trek from Sangla valley, please consult travel agents for more info about the trek.
Chhitkul(3500M): Chhitkul or Chitkul is the last inhabited village situated near Indo-Tibet border at a distance of 23 km from Sangla. This village lies on the right bank of River Baspa. The panorama of Chitkul is most stunning with imposing close range Himalayan views. The popular attraction of this village is the temple of local goddess 'Chitkul Maathi' also known as 'Mata Devi'. People of the entire Kinnaur District come to worship at this temple. Chitkul also experiences heavy snowfall during winters, due to which it also becomes completely un-inhabited. No one can travel beyond Chhitkul village as the area is under Army control and tourist are not allowed to go beyond.
---
The Sangla valley is a home of some endangered wildlife. "Bhoj Ptra" Trees are also found in this valley along with various other medicinal plants. Apple of this valley has its unique importance due to its quality, There are various trek route available here along with camping sites along the Baspa river, mostly camps are found at Rakchham village, The snowy slops attracted everyone, glacier water streams flowing down from high mountains looks stunning beautiful. If developed and explore the region for various adventure activities like, skating, river crossing, rock climbing, even paragliding, tourism industry will boast up the economy of Sangla valley and Himachal Pradesh.
---
Video – Shimla to Sangla Valley
---
Our journey
We were five friends travelling from Shimla to Sangla and our plan was to make 1st night at Sangla, It took more than expected time to cover 215 Km even though we started early 6 AM. Condition of the road beyond Rampur is not as good as we thought. There are many stretches which take more time and speed of the car may drop below 20KM/hr. So it is advisable use SUV and drive carefully even you are expert driver.
We left National Highway at Karchham and took right on the JP dam site at karchham to Sangla, now the condition of the road went even worse, we had to cover 19 KM to reach Sangla through narrow and treacherous road. We took approximately 1 and half hour to cover the distance to reach out to Sangla town. In the evening we watch out Sangla market and local site seen at Sangla.
Sangla has Kamru fort, Monastery, Bering Nag Temple to visit. Next day we again started early in the morning to roam through Sangla valley upto Chhitkul, It was a sunny day which was fortunate for us to visualize spectacular sight of Sangla valley. As we started from Sangla , valley seems more beautiful and views are breathtaking, we were going upward and the view of the valley from higher location was amazing.
All of the villages are beautiful and has apple orchards, apricot, potato and peas in the fields,
We were stopped at Mastrang for regular entry of vehicle by ITBP at Mastrang checkpost. there are some sharp curve on the road so be careful while driving.
As we were watching our nature beauty so it took more time to reach Chhitkul at an height of 3500M appx. above sea level, it was a dream come true for me to reach out the last village before China border and Chitkul is so beautiful with wonderful snow peaks views and lush green forest on the right bank of Baspa river, We walked upto the river for photography and enjoy around 2 hours in the village and watched the nature closely. Glacier riverlet are very close to us and also snow lines even in the month of July, weather in this valley hardly become warmer. Fresh cool air make you refresh. We finished our journey and left with life time memories with us.
---
Best time to Visit : The best time to visit Sangla Valley in Kinnaur Distt of Himachal Pradesh is summer specially May end to July 1st week. As this place is very close to greater Himalayas so warm clothes are required.
Where to stay : Hotels, rest and guest houses are available at Sangla Town, Rakchham and Chhitkul, Various restaurant and Dhabas are also available, (Note: Last Dhaba of Hindustan can be found at Chitkul).
Thanks for reading, keep visiting for my blog for new journey with me.
---
Here are some of the pics from the trip