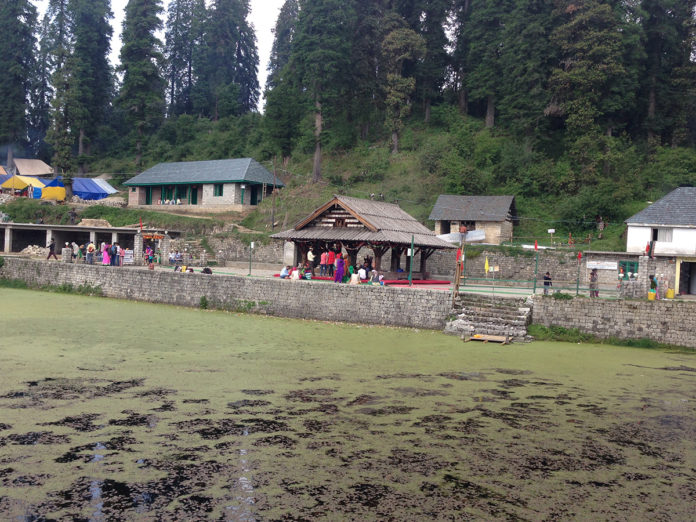 kamrunag Lake: Majestic vicinity covered with thick pine forest
Kamru valley of Mandi Himachal Pradesh is majorly famous for local deity 'Kamrunag' known as rain god or 'bada dev', a temple of Kamrunag at the lake side where thousands of devotees pay tribute every summer specially when a fair is organised at Kamrunag yearly in the month of June. Visitors can only reach Kamrunag via trekking as no road available at the moment up to Kamrunag lake. There are view options to reach up to Kamrunag lake, all treks are steeping upward as the top elevated and has altitude of approximately 3000 meters from sea level.
---
Available Trek options
Rohanda to Kamrunag Trek distance = 6 KM (2-3 hours trek)- Main route
Saroa to Kamrunag Trek distance = 8 KM
Dhangyara to Kamrunag trek distance = 10 KM
Jachh to Kamrunag trek distance = 9 KM
I opted to trek from Dhangyara to Kamrunag, this trek is go through beautiful landscape and offer panoramic views of jauni valley.
---
Trek from Dhangyara to Kamrunag
The trek from Dhangyara to Kamrunag is approximately 10 KM, Dhangyara is well connected with road and can be easily accessible from Mandi and other major cities, Dhangyara is 49 Km from Mandi. Devidarh which is major attraction of jauni valley is about 6 KM from here.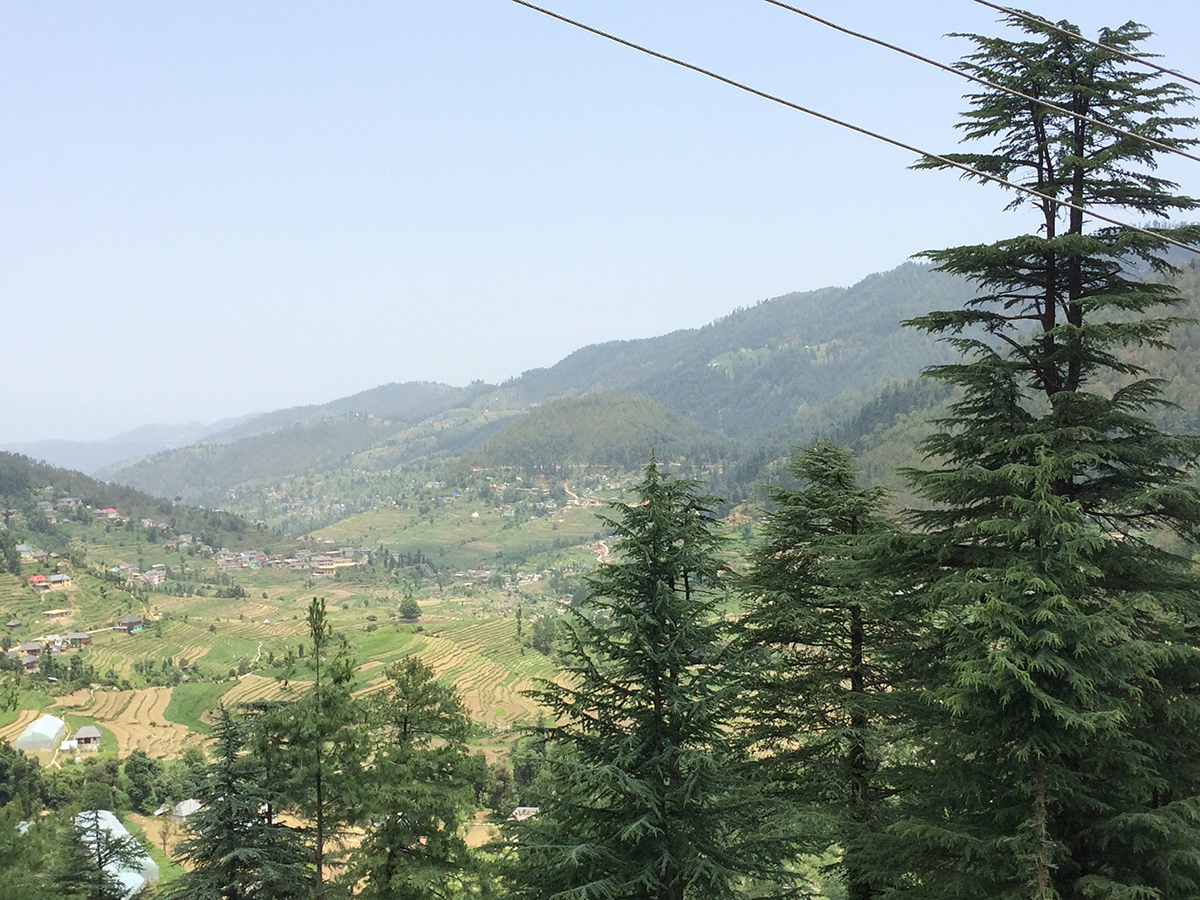 View of Jauni valley from Dhangyara
---
The plan was to trek Kamrunag and get back to Dhangyara same day so we start early, I was accompanying with three friends for the trek. At the start trek is very steep going through small villages and wild above Dhangyara. Various memorizing views of the landscape can be visualize as you move upward.
---
Trek path and view's from various locations toward Jauni valley Devidarh
---
Various cultivated and wild fruits can be found on the way which keep you refreshing and energetic, but you must know which fruits can be edible and which can't be. In Kamru valley forest there are various kind of medicinal herbs, good knowledge is must to collect them, 'Lingar' a famous wild vegetable is also available in abundant, some villagers earn their livelihood by selling Lingar in nearby cities.

---
We had a small break for few minutes after 2-3 KM from Dhangyara to get refresh and start our hiking, there are many hamlets which are naturally built for quick rest and food break. Our next stop was Primary School Chainn-Magal, we ate some fruits and visualize the landscape, Chainn village which is approximately 1 KM from here are the last village of the trek after that there are thick forest up to the Kamru temple, and from Chainn path again become steep upward and climate becoming cooler and cooler as we traveled.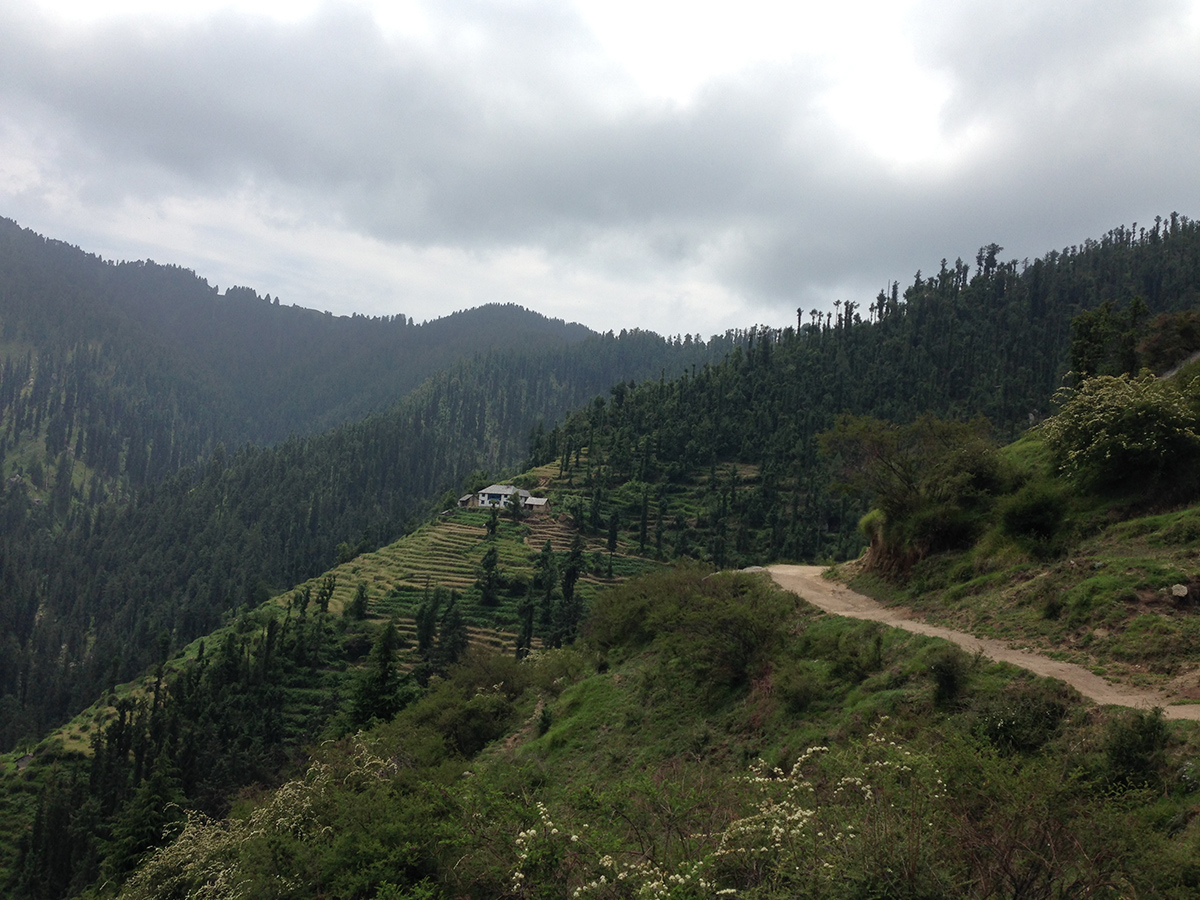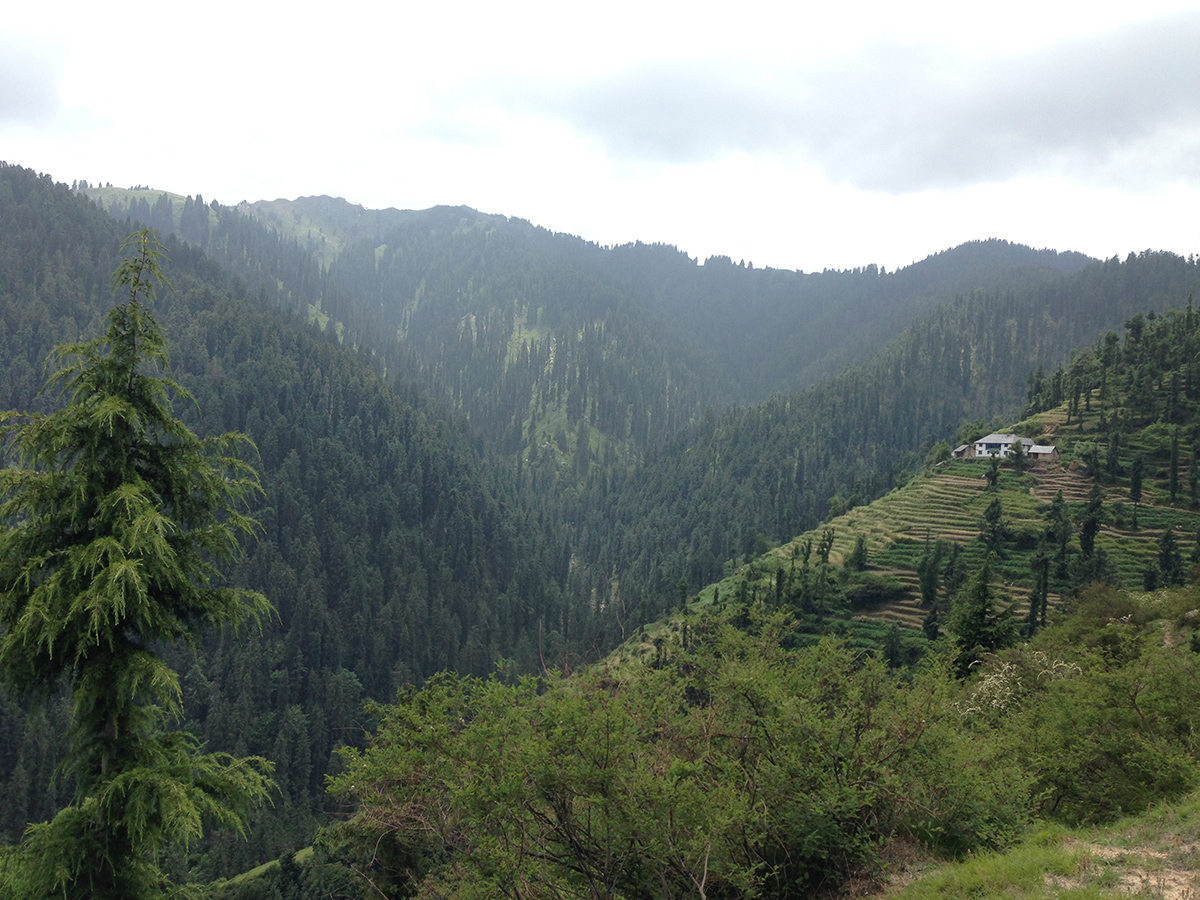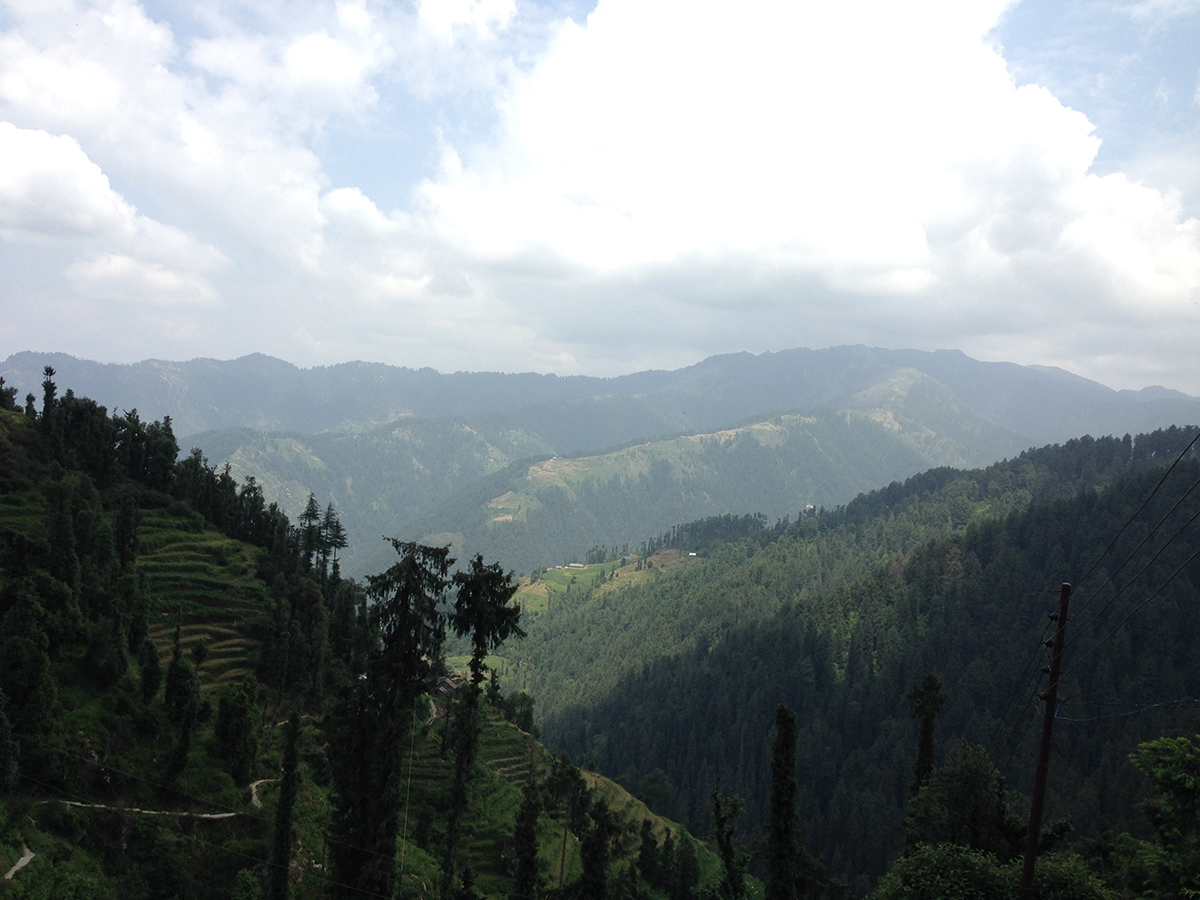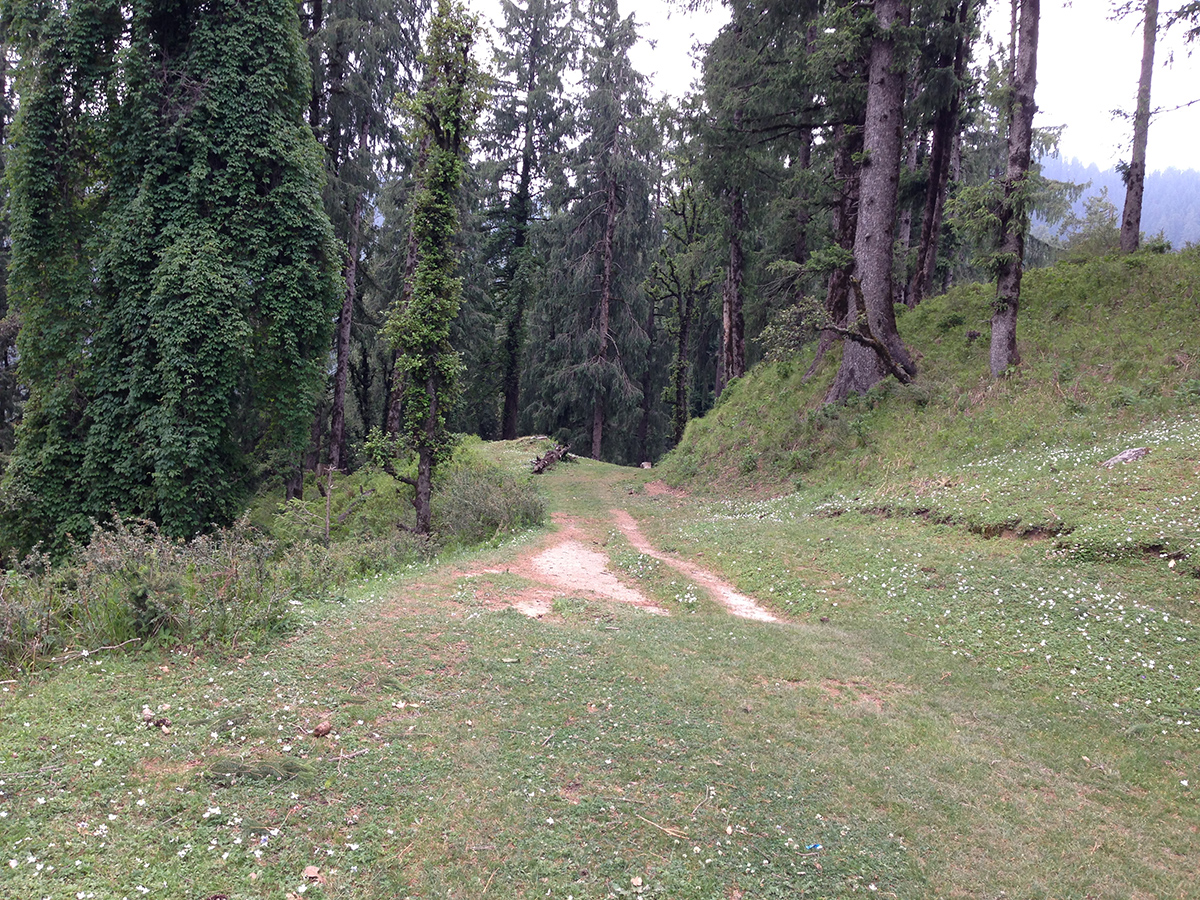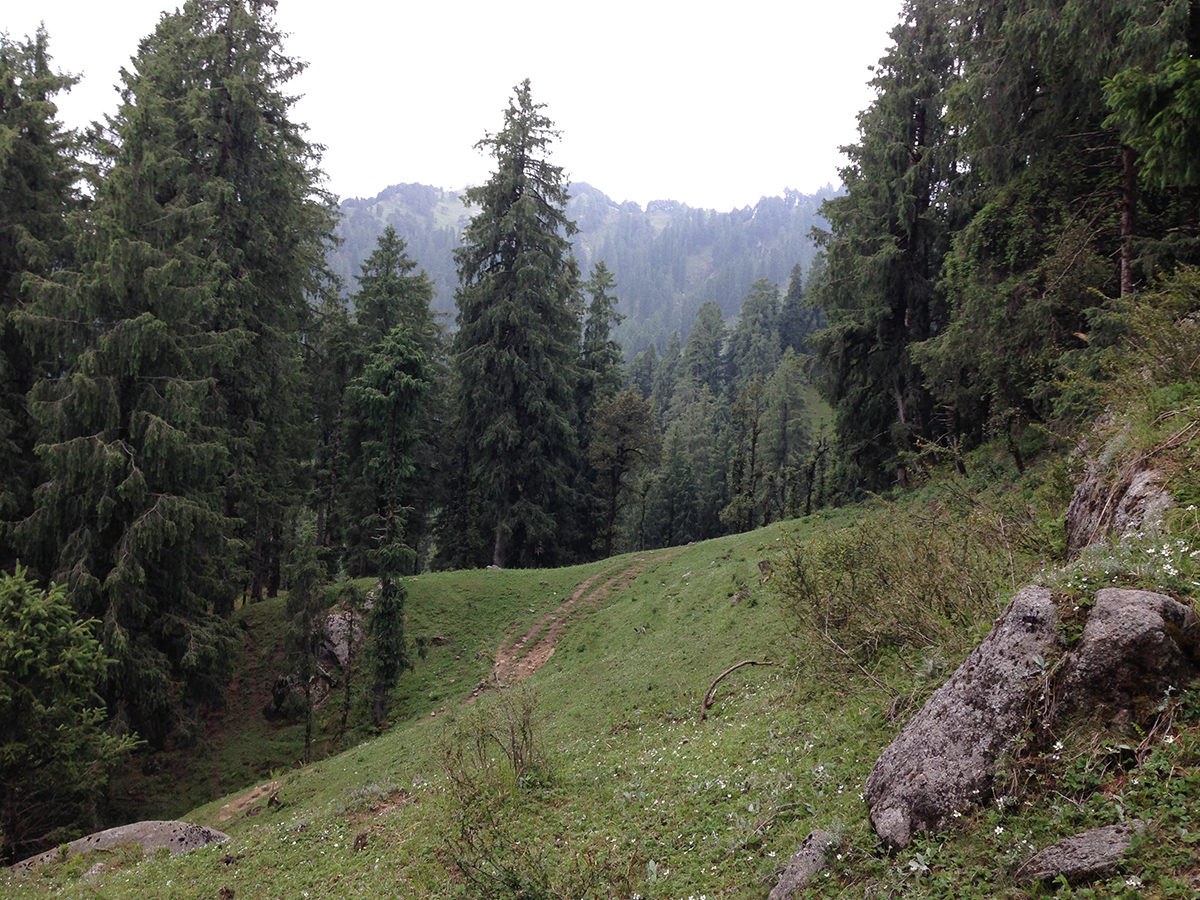 Views from Chainn – Maggal School, Chainn village, forest
---
We had a last break before few KM from the Lake, we also enjoyed wild strawberry which can be easily found in the month of June above Chainn village in the forest. We only ate fruits which we taken along with us and also some native fruits like Strawberry, Plums, calsy(on the the Plum variety), Himalayan raspberry.
We had taken around 3.30 hours to reach Kamrunag Lake with 3 stops included in our journey. At Kamrunag there was a Sarnauli fair setups (Fair yet to start in couple of days), in all its nice place to visit and trekking is wonderful, offers panoramic view's of valley and various ranges of Himalayas, Lake is surrounded by forest and a temple of Kamru Temple, I haven't visit the temple as I don't have faith in such kind of religious activities, I only visit the place to witness the beauty of nature and wonders of Himalayas, you may differ from my ideology that's nothing problematic.
---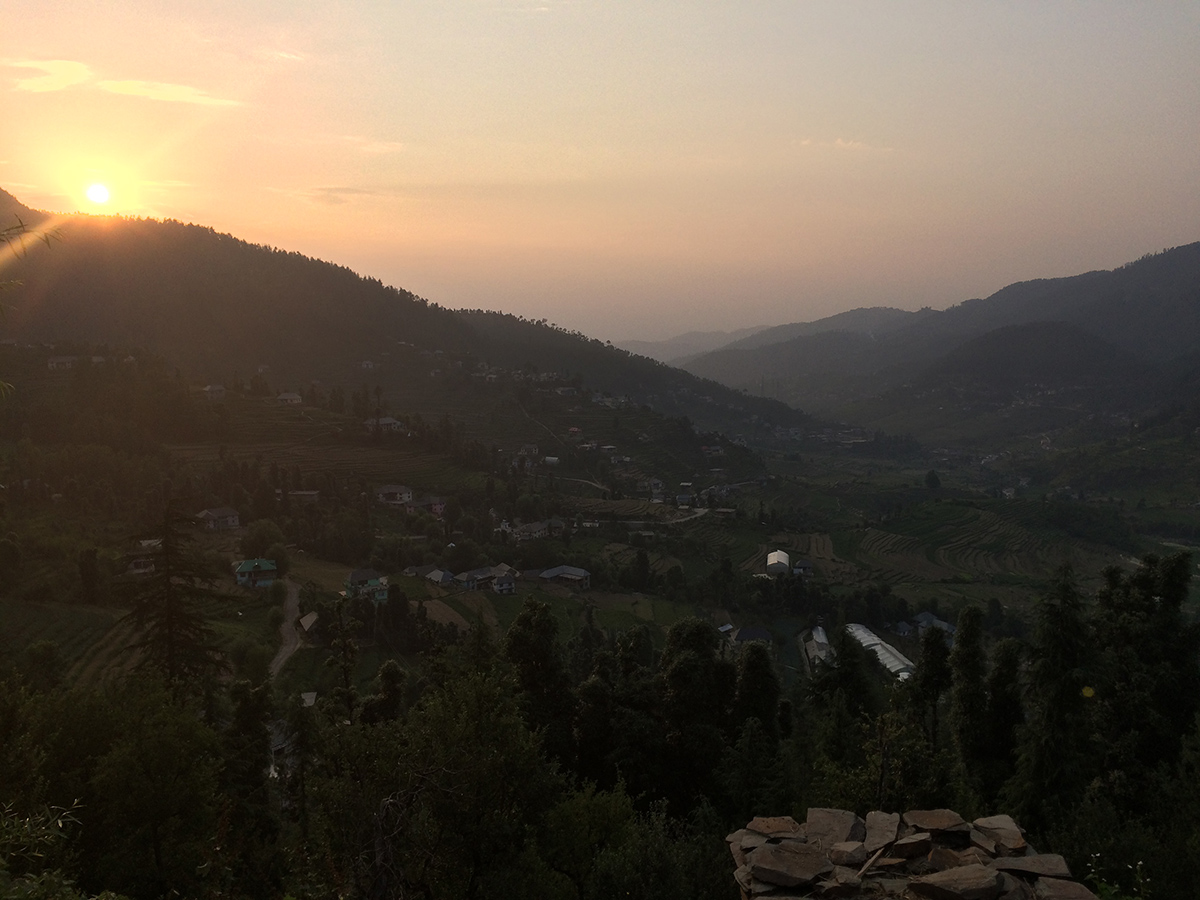 Evening view of Jauni Valley
---
After spending 2 hours at Kamrunag we used the same path to get back to Dhangyara, it was completed in 2:20 hours while returning with only one stoppage. We made our night stay at Devidarh guest house, Devidarh is another very nice place, you can read more about Devidarh from my past article Click here to read.
---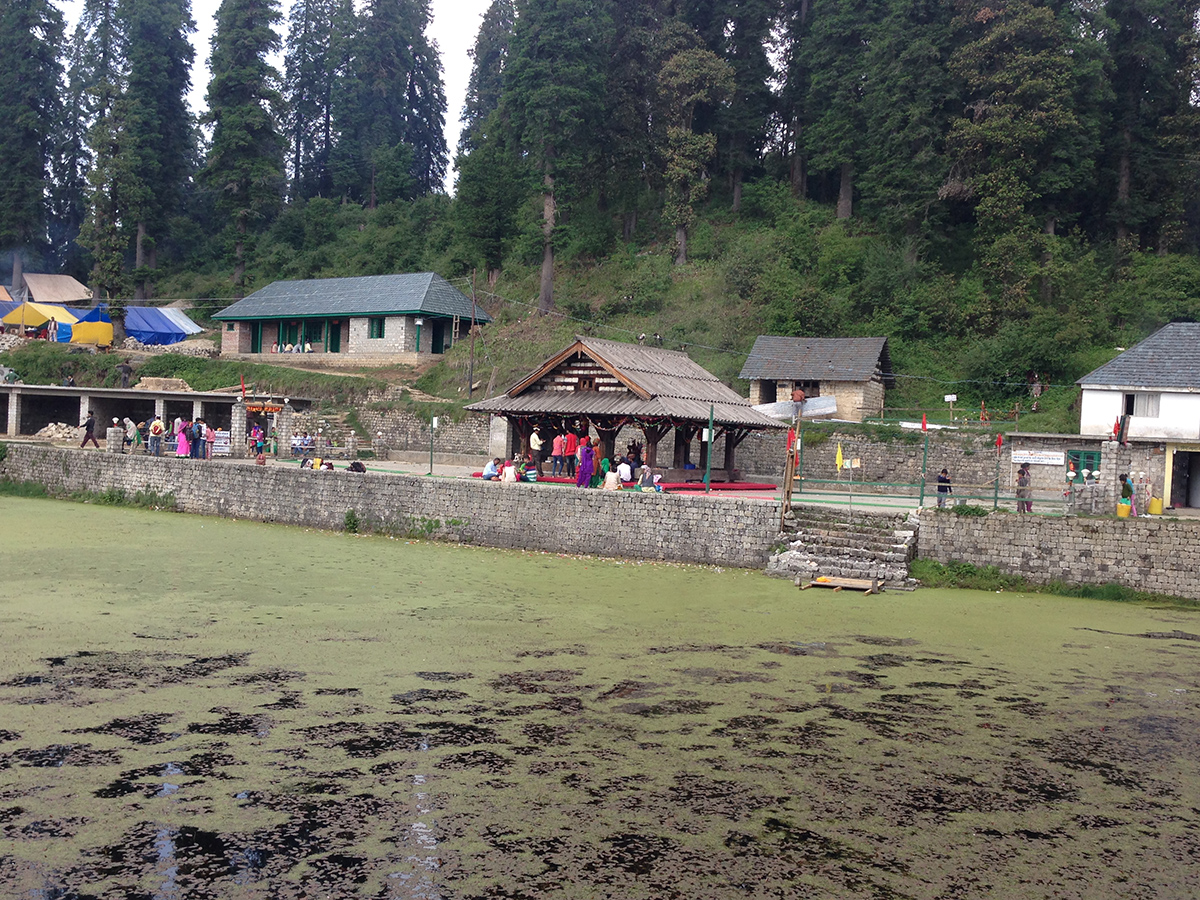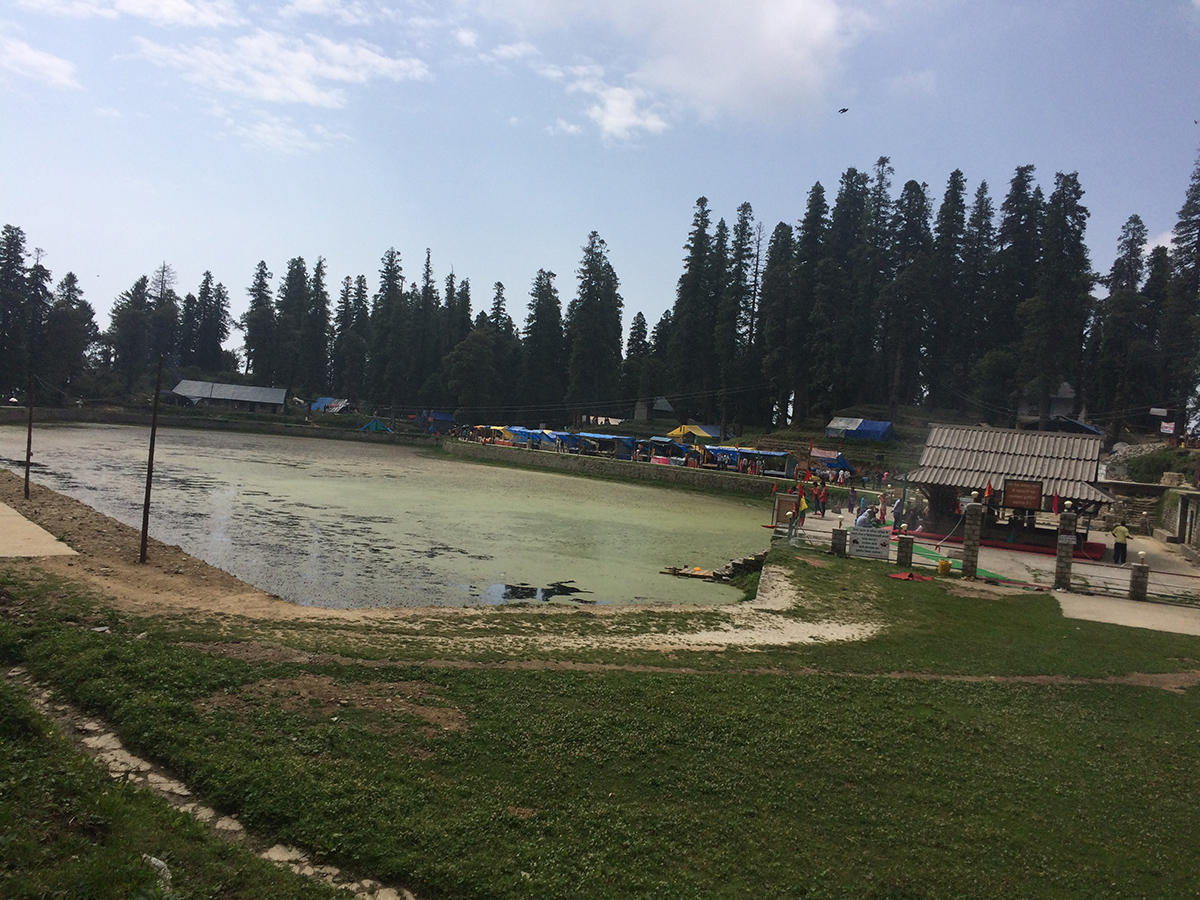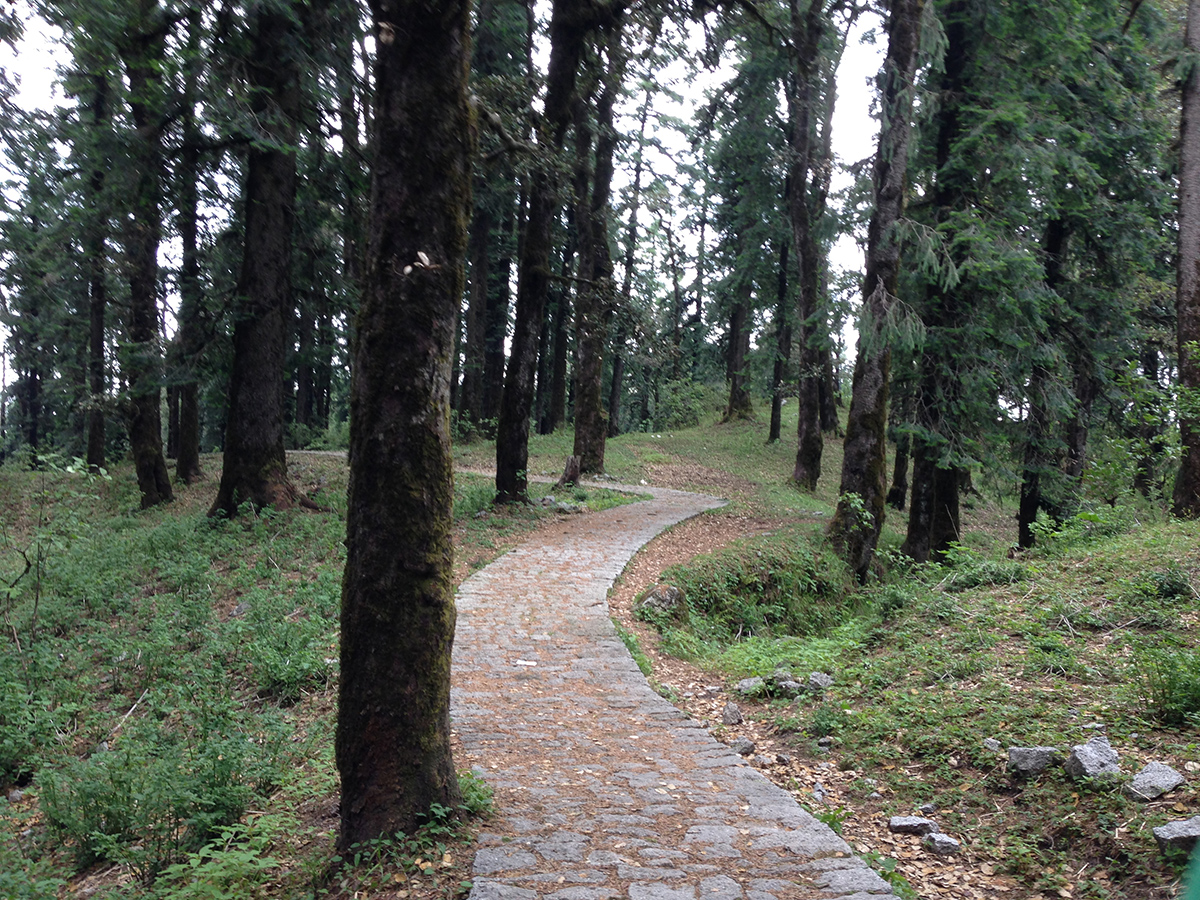 Kamrunag Lake and Temple view
---
Other return options
Kamrunag to Saroa (8KM trek)
Kamrunag to Rohanda (6KM Trek)
Kamrunag to Shikari devi (16 KM trek)
In the nutshell its great place to visit what ever reason you make for the visit, in clear weather view of Balh valley and Rohanda and adjourning area from the top speechless. Overall we enjoyed the trip and hiking and finished it with good memories for future.
---
Winter Trek Option
This Trek can also be done in winter but due to heavy snowfall, it might be difficult to reach kamrunag, many adventurer make it in past, there are heavy snowfall and chilly weather in winter, if planning for winter trek make sure for proper arrangement for foods, night stay and etc.
---
Trek Info :-
Trek Distance : 10 KM (single side)
Trek Duration: 1 Day
Difficulty Level: Easy
Best Time: Summer (April to June)
maximum Altitude: 2950 mtrs
Weather: Cool in summer and chilly in winter