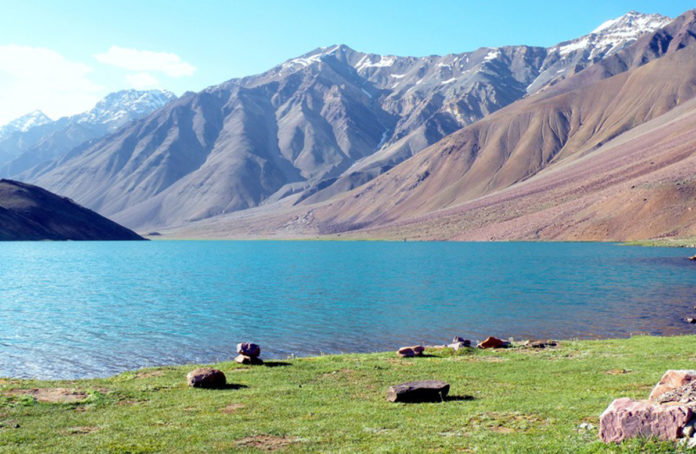 Chandratal or Chandra Taal is a high altitude lake in Lahul and Spiti District of Himachal Pradesh at an altitude of 4250 m. Chandratal is also know as moon lake, got its name because of its crescent shape. The crystal clear fresh water of the lake attract nature lover and photographers, the source of the lake is glacier melt down.
Lake has 2.5 KM circumference and of crescent shape. Chandratal lake is a paradise for Trekker and adventure lover, there are many camping sites near the lake in the lap of high mountains. Even though camping is banned by Forest department near the lake from 2010 onward to protect the eco- system. During springtime vast meadows on the banks of the lake are carpeted with hundreds of kinds of wildflowers. The whole area is declared as Chandertal Wetland for environment protection. The landscape is wonderful and magnificent attracting number of tourist every year.
The Chandra river originated from Chandrabhaga mountain range flowing near to the lake and some time it is believed that Chandratal lake is the source of Chandra river, which later become Chenab river.
---
History: There is a mythical story of a mermaid living in the glacial lake. This is also said that a shepherd from Hansa village in the Spiti valley fell in love with the fairy and spent some time with her under the water. Chandra Taal is a favorite halting place for the shepherds because of rich growth of grass. The water in the lake is so clear that stones at its bottom are easily visible.
Alpine vegetation grows on the surrounding moraines in summer. This lake freezes during the winter season. Its waters are crystal clear and free from pollution.
---
Available treks:
Kumzum La Pass to Chandratal lake (1 day)
Chandratal lake to Surajtal – Baralachala Lake(3 days)
How to Reach Chandratal Lake
You can reach Chandratal lake either from Manali or Kaza.
Manali to Chandratal Lake (130KM appx) :Manali –> Rohtang Pass(4000m) -> Gramphoo –> Chattru –> Battal –> Chandratal Lake
Kaza to Chandratal Lake (99KM appx) :Kaza -> Losar -> Kunzum La Pass(4550m) ->Chandratal Lake
Road condition: Road condition is not good at all either from Kaza or Manali, the rough condition of road along with lot of water crossing need expertness in driving and good vehicle preferably SUVs/MUVs for this terrain. The final 14 KM road after the diversion from main Manali-Kaza road is little more narrow and risky to drive as the other side is sharp gorge up to fast flowing Chandra river. Be more careful while driving such dangerous terrain even you are highly expert in driving.
---
Video – Chandratal Lake – World's most dangerous roads
---
Video – Kaza to Batal
---
Video – Batal to Manali
---
Best time to Visit :As the area comes under alpine zone its has very cold during winter and temperature may drop well below even -25 degrees. Chandratal Lake remains frozen in winter. Although cold during summer, snowfall can happen anytime of the year here. Do not forget to take heavy woolens along with you. July to Sept is the best time to visit Chandratal lake.
Where to stay: There is no option near the lake for night stay except few camps which are there in the summer, the other option is to take your own camping tents. At Batal there are 2 option one is PWD guest house and other is famous Chandra Dhabha of Dorje Uncle which has bed system and it cost RS 100/- per bed. Food (rice, daal, tea, etc) is also available at Batal Dhabha for fair price.
A request- Please do not litter at these places and let others enjoy the Mother Nature as you did.
---
Visuals from Chandra Tal lake.
---
External Resources
Here is the very nice link of Chandratal lake Photos