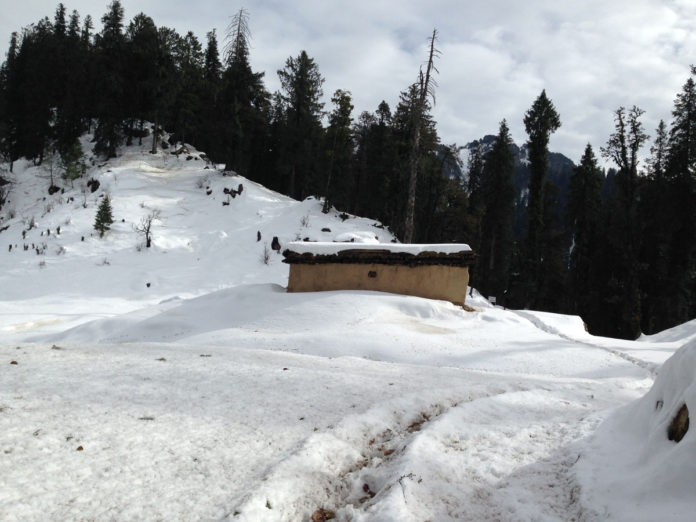 Crossing Beyond Shimla and Kufri along NH 22 is always being an excitement. Narkanda situated at an height of 2700m (app.) is a small beautiful town which let you explore the rural Himalayas.
---
Narkanda is about 65 KM from state capital Shimla, Narkanda and surrounding areas is famous for apple orchards. Narkanda experience heavy snow fall during winter, so best time to visit is summer. Narkanda is famous for Skiing & Winter sports. During winter the slopes come alive with skiers. Some nearby places of interest are as
Hatu peak (8 KM) at an height of 3400m
Kacheri, 7 KM on NH 22 from narkanda famous for ancient Mahamaya Temple.
Jallori Pass, 90 KM from Narkanda at an height of 3550m
---
My Journey
We had visited Hatu peak twice but second time we were not able to reach the top due to heavy snow on the way and path was not able to give a way toward the top. It were nice experience both the time. Here is the summery of our first journey to Hatu peak.
Our Journey started from Chandigarh, we had a plan to stay at Shimla for first night and start our trip on early morning next day to Narkanda. After breakfast we headed for Kufri as we had planed, had some time at Kufri as well.
It was short break at Kufri that time because we visited Kufri many time. On the way to Narkanda from Kufri we had several stoppage for photography and bargaining for apple fruit. We reached Narkanda in noon, taking lunch at their, we left for Hatu, it was challenging as road was very narrow and difficult to drive a car, but our driver(my friend actually lol) was very confident, even though some curves are really awful and scary.
---
Be caution if you don't have good driving skill for hills to opted self driving take expert taxi driver for your journey.
After reaching top it was great feeling and had a good time our there, it seams like we were on the top and everything are below us, nice view from the top of greater high himalayan mountain range which are always snow clad, Here are some rest house and have Hatu temple on the top of hill, one can see the art creativity on woods done at temple building.
The road goes upto the top through dense pine forest and very pleasant feeling, It is said that there are many wild animal like bear and leopard in these forest, so be careful if you trekking and alone, specially in winter it is not good to trek this peak without a guide.
It was such a really good trip, we had finished our journey by keeping good memories along with us and left for Chandigarh from Hatu peak on the same day.
---
Some pics from our trip