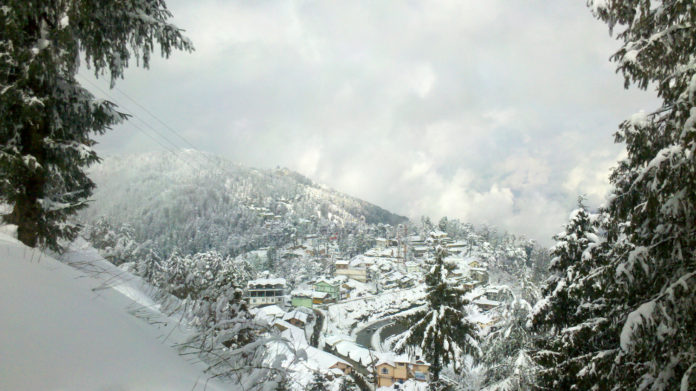 Chail is situated at an height of 2250 meters (apps) from mean sea level, small and beautiful hill station near Shimla.
The Main attraction of Chail is Chail Palace, which is well known for its architecture constructed by Maharaja of Patiala, the palace was built as summer capital of Maharaja. Chail is also considered as the hiker's paradise, various trekking route lead out of Chail. One can also enjoy fishing at near by Giri river, which make your tour amazing and adventurous. There are so many things to explore for nature lover around Chail.
Chail also have considerable places to visit few of the them is as follow:-
---
Cricket Ground: It is highest altitude cricket ground in the world at an 2444 meters built in 1893 on top of a hill.
Sidh Baba ka Mandir: At a distance of 1.5 KM appx there is a temple of Sidh Baba ka Mandir. Maharaja Bhupinder Singh originally began building his palace at this site. It is said that a Sidh, "saintly person" appeared before the Maharaja in dream and declared that this was the place where he had this temple built.
Chail Wildlife Sanctuary: At an distance of around 3 KM from Chail covers an area of about 10,854.36 hectares. The Chail sanctuary has 'ghoral', 'kakkar', 'sambhar', red jungle fowl and 'khalij' and 'cheer' pheasants. Machan like sighting posts have been built at Khuruin.
Chail Gurudwara: also one of the main attractions of this place, it was the first building to be constructed by the Maharaja and after that the palace was built. The Gurudwara was built in indo-western style in 1907, the 22ft high wooden roof is its main and highlighting feature. it is a must place for the tourists to visit.
---
Trip introduction
Chail can be approaches from either Chandigarh/Delhi or Shimla, the best route is from Chandigarh via Kandaghat where you have to take right path to Chail leaving NH 22 of Shimla. Road is narrow toward Chail from Kandaaghat but road condition is better.This 27 KM journey from Kandaghat to Chail with view of country side along the road make yourself refresh. Total distance from Chandigarh to Chail is around 110 KM could covered in 3-4 hours. One can make a stop at Shadhupul (bridge on river) near Chail is good picnic spot and for refreshment.
Take hotel at Chail for exploring Chail if you want stay for one or two days at there, other option is to explore and visit main attractions same day and keep journey toward Kufri, the next stop.
Road from Chail to Kufri is little more narrow, curved and hilly. Most of the road goes through thick pine forest and ultimate to drive as there is negligible traffic on this route, various photography spots will waiting for you on this route.
Kufri famous tourist spot in Himachal well known for wide view and ski slope, situated at 2501 meters height. Kufri is near to shimla and at a distance of 13 KM from State capital, Shimla on national highway 22. Kufri offer various adventure activities, have Himalayan wild life zoo, Chini bunglow famous for its statues and architecture. Kufri also have Kufri Fun World, an amusement park to enjoy the whole day.
There is option to stay at Kufri as no. of good hotels are there.
Return Via Shimla to Chandigarh
Its sad but we had finished our road trip to Chail and Kufri leaving behind memories and moments we captured with camera and all those fun and enjoyment during our trip. Now we are heading toward Chandigarh via Shimla through NH 22, have to cover approximately 135 KM.
Best time to Visit: recommended time to visit these two stations are summer as in winter heavy snow fall occur there, one can visit from March to June and also Sept to 1st half of Nov.
---
Some pics from the trip
Chail Shimla Kufri Gallery