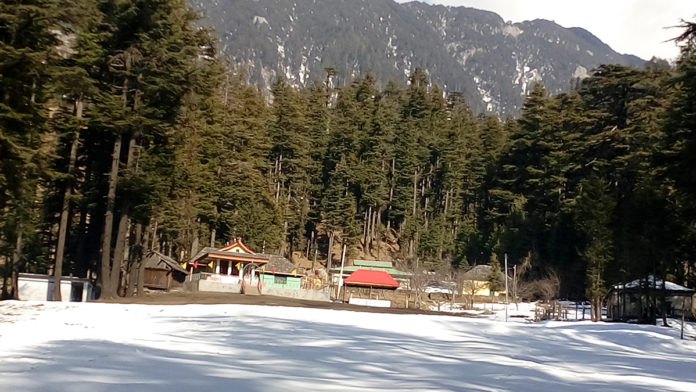 Devidarh in Mandi district of Himachal is unknown to the outside world even though it is a great place and has tremendous potential for tourism that need to be explore.
Devidarh is a small village in the Jauni valley above Chailchowk at a distance of 17 KM from here, It is about 56 KM from Mandi. Famous of a temple which is surrounded by thick forest of deodar, and there is also a sloppy ground similar to that of Khajiyaar (famous tourist destination in Chamba Himachal) so it can be called mini – Khajiyaar. The average height of this place is 2421m from sea level.
---
Devidarh is at the end of Jauni valley which is famous for potato, green peas and other cash-able agriculture items, whole valley is very beautiful and fertile, Jauni khad is flowing through this valley. The other main village is Jachh for which I already wrote an article, please have a look at Jachh Village.
There are two trek route from Devidarh, one is very famous and you can read more about Devidarh-Shikari Devi trek here Shikari Devi trek from Devidarh., the other one is Jachh-Jahal-Kamrunaag Lake trek. There are also good possibility for river crossing, camping and rock climbing, fish angling and other activities but till date no such activities are offered by any operator or govt agencies.
---
The area comes under Shikari devi Wildlife sanctuary all the flora and fauna are protected to conserve Himalayan ecosystem. This beautiful place is waiting to explore by nature lover and hikers. There are many picnic spots all over the areas.
My Journey
I visited Devidarh several times mostly in summer, as it is preferable time to visit because in winter heavy snow falls occurs here and road blocked. Devidarh is in one of the beautiful Jauni valley which looks something similar to European valleys, agriculture fields near the Jauni khand on sloppy hills and thick forest in the upper part of the mountains with lush green look make it even more beautiful. Devidarh is easily accessible via road, my journey starts from Mandi and I had to cover a total distance if 56 KM, my route is Mandi – Ner chowk – Dadaur (diversion from main NH toward Baggi) – Baggi – Chail Chowk (diversion at Ganeshchowk toward Janjahli) – Kot (diversion from Janjahli road) – Shalla – Tunna – Jachh – Jahal – Devidarh. The other routes are, from Pandoh via Gohar, and from Sundernagar.
The uphills road starts from Baggi after crossing BSL canal upto Chailchowk, road is in good condition but has some sharp curve. The next road trip from Chailchowk to Devidarh is memorable as you have to cross beautiful Jauni valley from Kot to Devidarh. as you goes further weather become more pleasant and cool even in the hot summer, at Devidarh you will not found any sign of hotness. This is very cool place which refresh visitors. One can make a visit to the temple, spend some time in the nature lawn outside the small temple. One can also make a visit to the village to see the tradition of local people and know more about Himachal's culture.
I am hoping in near future good facilities going to setup and govt take responsibility to promote these beautiful places as new travel destination, which helps local and govt to get revenue.
---
Best time to Visit : Summer is the best time to visit Devidarh and trekking from here. Please avoid rainy season.
Where to stay : There are some guest houses available at Devidarh and one can also stay at Chailchowk or Mandi. Camping is also another option.
---
Some pics of Devidarh