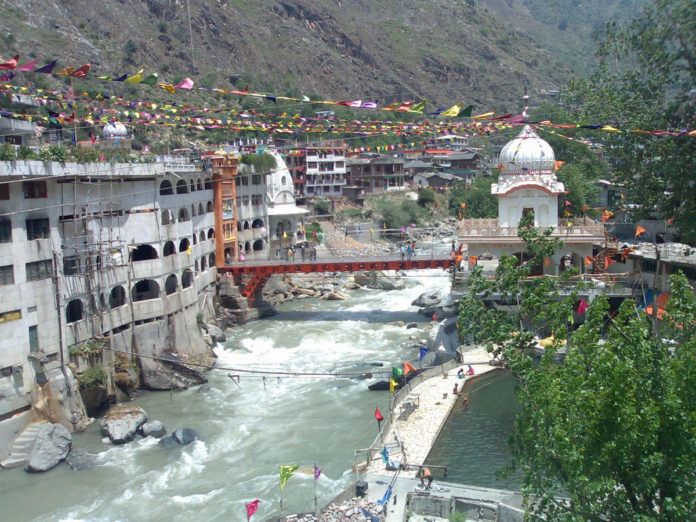 Manikaran is beautiful small town in Kullu district of Himachal Pradesh in Parvati valley, Parvati river flowing through Manikaran.
Manikaran is well connected with road, its about 45 KM from Kullu. This small town attracts tourists visiting Manali and Kullu to its hot springs and pilgrim centers. An experimental geothermal energy plant has also been set up here. Manikaran situated at 1750m altitude from sea level.
---
Manikaran is mostly known for religious faith as it has various temples and a Gurudwara, where thousands of devotees visits every year. Visitors also take a dip in hot sulphur spring water, at the small water pound at the basement of gurudwara. The water of the spring is also said to have curative value which cures many skin diseases.
---
The oldest democracy of Malana village is world famous,to visit Malana village you have to cross Chandra Khani Pass, trek starts from Kasol which is at a distance of 5 Km from Manikaran.Malana village is unique and has distinct culture. Kasol is also known as mini Israel beautiful place in the Parvati valley(PS: Separate post about Kasol will be available soon).
There are many scenic spots around Manikaran like Khirganga, Mantalai and many more. Various hydro power projects is being setup in the valley, the famous is Parvati Power project.
---
Our Journey
I visited Manikaran many time and always has good time to be there, its nice place I love to be here, because of the nature beauty and Parvati river flowing through the valley, which run so fast as compare to other Himalayan rivers, through narrow path with huge amount of water, it looks like this river is younger then all the others, the sound generated by the water movement is so charming.
Manikaran is easily accessible via road only, no other means of accessibility available, it is 35 KM from national highway 21, diversion at Bhuntar which is 10 KM short from Kullu toward Manali Via NH 21. Manikaran is about 80KM from Manali and 90 KM from Mandi. Direct buses and taxi services available for Manikaran not only within the state but also from Chandigarh, Dehradun, Amritsar, Ludhiana and various other cities of Punjab.
---
The 35 Km from Bhuntar to Manikaran was very good experience for me as I was driving first time on this road which is now not as narrow as it was in past. Road through country side of Parvati valley make the trip even more wonderful, has many photography sites on the way. The pine forest give you great pleasure, travelling parallel with Parvati river make trip more awesome.
At various points you can found small landslid on the road which is common on this road. We had a breakfast at kasol, you can also try Jeri (site of Parvati Power project) but Kasol is everyone choice. This small town gaining immense popularity among foreigner tourist specially of Israel people, who can be found here all the time. That's why Kasol is also known as mini – Israel. Kasol is an ideal destination for backpackers, trekkers and nature enthusiasts due to its scenic valley, untouched mountains and great climate throughout the year. It is an important base for trekking towards SarPass, Yanker Pass, Pin Parbati Pass and Khiriganga.
---
We had spent our time at Manikaran town, and taking lunch (rice langgar) at Gurudwara Manikaran Sahib, I also took a bath in the hot water spring pound at the basement of Gurudwara. Rice has been cooked with the help of hot spring water which is boiling at various spots.
Best time to Visit : Summer is the best time to visit Manikaran, winter is very harass and in rainy season chances of land slides become more common. Now a day Manikaran is accessible throughout the years, there is a snowfall in winter.
Where to stay : There are many hotels and guest houses at Manikaran and Kasol.
---
Some pics from the Manikaran visit