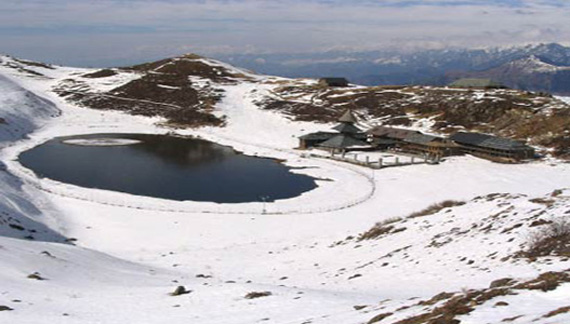 Prashar Lake lies at the top of mountain at an altitude of 2755 M from sea level is one of the most beautiful place in Himachal Pradesh still not much explored. Prashar lake is surrounded by snow-capped mountain range of Himalaya's particularly Dhauladhar and Pir Pinjal ranges.
Prashar Lake is well connected via road and at a distance of 49 KM from Mandi, even though the condition of road above Baggi village is not good enough. A three storied pagoda-like temple dedicated to the sage Prashar near the lake. The lake has a floating island in it, which change its location by moving in the lake. This place offer good sites for camping and also a paradise for backpackers and trekkers.
Their is famous traditional fair held every year at the Prashar from 13th to 15th June every year.
---
Trekking options
Diyori (near Pandoh dam) – Prashar Lake – Diyori: this trek is unknown and offer 22 Km trekking from Diyori to Prashar Lake, it is consider easy trek route. Please avoid rainy season and also trekking in winter little bit difficult as compare to summer, summer is the best time to trek.
Baggi Village – Prashar Lake – Baggi: this is small trek approximately 15 KM up and down, offer spectacular views of Himalayas and village culture of Himachal, avoid rainy season for trekking through this route, in winter trek become young and snow on the way makes one feel blessed to have visited such an enchanting place.
---
My Journey
I wish to visit Prashar lake once a month because I love this place, spectacular views of Himalayan's ranges from the top and Beas valley from the top of the hill. I am planing to trek upto Prashar Lake from Baggi Village irrespective of my past visits via bike or car.
As it is 49 Km from Mandi still it take around 3 hours to get on the top, now road condition is little bit good upto IIT Mandi at Kamand, I had travelled from Mandi, going uphill from Mandi till Katindhi village after that road is downhill upto Kamand village which lies on the bank of Uhl river, view of the hills and newly constructed IIT is clearly visible from the start of downhill near Katindhi, IIT Mandi is truly a most beautiful IIT of India in the laps of Himalayas. I am hoping Prashar Lake become famous because of the nearby IIT Mandi campus at Kamand which is just 12 KM from Mandi. My first stop was at village Kataula where we had a tea.
---
After few KM from Kataula there is a diversion for Prashar lake from main Mandi- Kullu road, here I had 25 KM left for Prashar lake. I again stopped at Village Baggi, this village is also picked by HP govt as "Her gaun ki kahani (every village's story)" campaign use to promote rural tourism in Himachal, this is beautiful village surrounding by thik pine forest and also the base for Prashar lake trek route. After spending some time here, we started our journey further.
Now the road become more rough and difficult to drive, have uphill sharp curve, this becomes challenging and adventurous, slowly slowly we reached near the lake and views of surrounding area provide a proud feeling of incomparable beauty of this place.
big trees are not seen on the top those left behind as we reached on top, after reaching at Prashar lake we paid a visit to the lake and also see the temple which has unique Himachali architecture, place is very quite and pleasant, as it is common practice of all the human we also did photography and after that spent some time on the grassland. This place is cool even in the months of May, June.
---
Best time to Visit : Summer is the best time to visit Prashar lake, in winter heavy snow fall occur and road being closed for few months and in rainy season chances of land slides become more common. Weather can change any time dramatically, so better to avoid winter and rainy season for the visit.
Where to stay : If you plan to stay at Prashar lake then please book rest houses before visiting, rooms are also available at temple and camping is also another option. Hotels and guest houses are available at Mandi.
---
Some pics of Prashar Lake