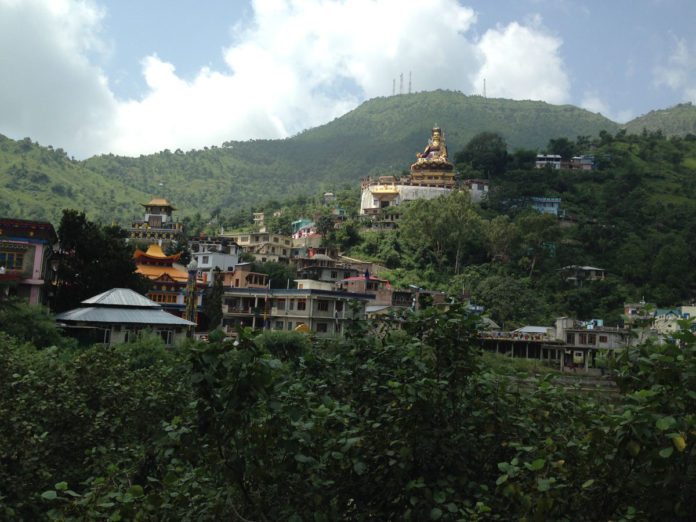 Rewalsar Lake, one of the famous Pilgrim center of three religion in Himachal Pradesh. Rewalsar is 24 KM from Mandi and at an average height of 1365 m, famous for floating islets lake, but now all the islets has almost vanished.
Rewalsar is also known as Tso Pema Lotus Lake by Buddhist, Historically Rewalsar is associated with three religion namely Buddhist, Hinduism, Sikhism and has very important place for all sact, Rewalsar lake is is a mid-altitude lake located on a mountain spur, There are some other lakes on the mountain top above Rewalsar, some of them are now dried. Rewalsar lake is surrounded by forest looks very beautiful with variety of natural resource.
In the surrounding of lake there are temples, a Gurudwara and three Monasteries, Padmasambhava who lived and meditated here before leaving for Tibet to spread Buddhism in Tibet. He was known "Guru Rinpoche" to the Tibetans.
It is here that the sage Lomas did penance in devotion to Lord Shiva, and the Sikh guru Gobind Singh (22 December 1666 – 7 October 1708), the tenth Guru of Sikhism, also resided here for one month.
The Sisu fair held in late February/early march, and the festival of Baisakhi are important fairs at Rewalsar. Not must popular among tourist but Rewalsar has potential as tourist destination, which need to be explore. In past there was a ZOO near lake but it was closed by forest dept few years ago.
I am hoping they will open it again as it was get attention of tourist. Other major concern are pollution and over feeding of fish with mills floor and other eatable items in the name of religion, water of the lake become poisonous which cause death of fishes, I personally appeal all the people to stop all these practices which is hazardous for nature and eco system.
---
Sarkidhar
The villages above Rewalsar lake on the way to Naina Devi are very beautiful and also famous for the seven lakes locally known as "sar" which means lake, that's why this area is known as Sar Ki Dhar (hill of lakes). Most of the lakes are now dried up, only 3 lakes has water, the main lake is known as Kunt Bhyog which is at 1750 m height and has larger span and water as compare to other. nature blessed whole area with utmost beauty, villages are also beautiful having traditional home with roof made with slates. Whole area abundant with forest of chil and now new plantation of pine trees are also seen there.
---
Naina Devi Temple and Cave
Above Sarkidhar Naina Devi temple situated on the top of mountain ridge, the view offer by the top is tremendous, in clear day most the ranges of himalayas are visible from here, also the view of Bahl Valley and high snow-clad mountains of Pir-Pinjal range surely make your day. Temple lies at an height of 1830 m above sea level. Most of the time you will feel windy weather with cool bridge blowing even in full summer. Below temple there is a cave and it is believed that Guru Padmasambhava meditated here, now a day Buddhist monks seams chanting here and in and around the cave, lots of scripting in Tibetan language is written on big rocks and rocks are surrounding with flags.
---
My journey
As it is my native place, I studied at Rewalsar, and I am visiting whole area time to time when ever I got time, I am narrating this trip from Mandi irrespective of my village which is close to Rewalsar.
The road condition from Mandi to Rewalsar is very good and it is single road with total distance of 24 KM, regular taxi services and buses runs on regular basis.
I took 40-50 minutes to drive from Mandi to Rewalsar with bike, buses take little more time. As the main attraction of Rewalsar is lake so roaming around lake and reviewing nature always pleasurable for me, there are many temples and monasteries, Buddhist monks seen all around the lake chanting and revolving wheel in their hand. small grass land near lake offer good lazy time to spend and watching activities of other specially fishes in the lake water.
One can pay a visit to temples, Gurudhara and monasteries here, as Rewalsar also has small Tibetan settlement so you can have a feel of Tibet, the influence of Tibetan people also seen in food items, you can enjoy really great Tibetan foods like Momos, Thupka, chaumin and etc.
---
After spending 2 hours and had a lunch here I had start my journey further toward Naina Devi, now the road condition is little bit narrow and uphill, after 5 KM from Rewalsar there is a diversion toward Nainadevi and now uphill sharp curve become common, good driving skill is necessary from here upto the top, the total distance from Rewalsar to Naina Devi is 11 KM but it take half an hour to make it.
I stopped at many location and click pictures which can be seen below in the photo gallery. Moving further and getting close to the biggest lake of seven lakes of Sarkidhar, Kunt Bhyog. I spent some time here, it is a very good place and abundant natural beauty, now seating arrangement is made available on the one site of the lake.
The next stop was cave, where I saw scripts written on rocks and big and small flags which make good noise with winds which blow most of the time due to the height and on hill top position.
The final destination was now just 2 KM left and I reached their in 5 min, it is always good for me to be on the top of any mountain I would like reach the summit from where I can watch all the areas and get good time with nature. Hill top at Naina Devi temple offer good scenic views of Himalayas, Naina Devi temple is one of the important temples in this region and has a very well maintained campus. It has total 35 KM distance from Mandi to the top of Naina Devi Temple.
After spending some good time here I had to get back to Mandi, overall this was very good trip and I enjoyed it well, There is a occurrence of snow fall in winter, but road is open through out the year.
Best time to Visit : Rewalsar lake and Naina Devi can be visited through out the year, its always open area as very few chances of snow fall in winter, even though it is requested, please avoid rainy season as heavy rain fall some time block road due to landslide. Weather is pleasant through out the year.
Where to stay : There are various hotels and guest houses in Rewalsar, there are some paying guest houses near Naina Devi.
Thanks for reading, keep visiting for my blog for new journey with me.
---
Here are some of the pics from the trip