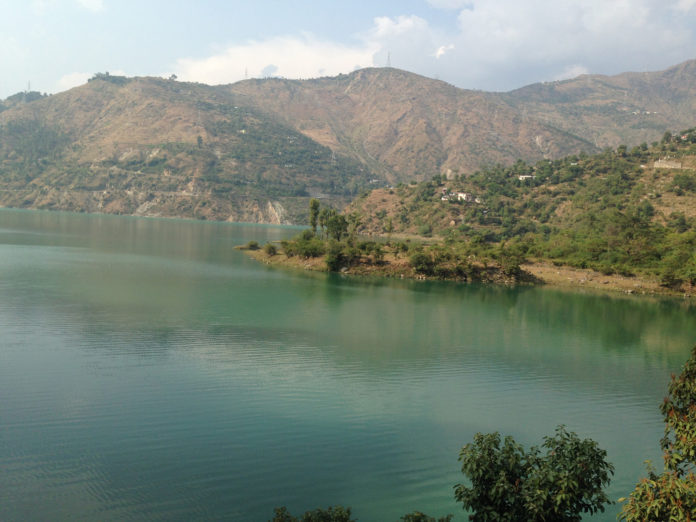 Pandoh Dam & Lake (6KM from Pandoh)
Pandoh 18 KM from Mandi on the way to Kullu Manali on National Highway 3.Our journey starts from Mandi to have fun and some picnic together, we were in search of around Mandi, We chose dam side near Pandoh. We take the diversion toward Janjehli road leaving national highway, approximately 2 Km from Pandoh, after 1 KM we had another diversion from main Janjehli road toward Baglamuki temple.
Pandoh dam side is the virgin beautiful place in the pine forest and surrounded by the water of Pandoh Dam all around, this place is situated near Pandoh. here you can find complete peace, nice weather, abandon with natural beauty and water stored by BBMB as dam which become a big lake (man made).
---
By Crossing rope bridge only for bikes and pedestrian to the other side toward Baglamukhi temple, if you have car than you have to go for 4-5 kM extra long road. You can visit temple, its on your own wish. Atleast 1 KM behind temple on road you have to trek down for the ground along the lake where you can have some picnic and photo shot.
Path is totally rough and scary toward down. Boating and swimming is banned by Govt. due to security reason of BBMB Dam site area.
---
This place is ideal for weekend trip with Picnic parties, or group parties, the small ground between the lake provides the feel of an island in the sea and catchment area for beach. You can enjoy the sun bath with very cool water around you.
This site is ideal for Camping and as per my view this the best camping site in Himachal, but due to non awareness of locals and lack of govt. desire this place still waiting for such activities.
Weather & Altitude : The average altitude here is around 1350m App. due to dense belt of forest all around the area weather here is unpredictable, rain will make you wet any time and temperature will range from -4 degree C to 35 degree C in a year. In the winter there is a snowfall in the near by high hills.
Best time to visit & Where to stay : The best time to visit is April to July and Sept to Dec. There is a guest houses/Hotels in Mandi, Pandoh. Chandigarh-Manali NH is passing through Pandoh and also on the opposite side of the lake. The other option is camping.
---
Some pics from the trip