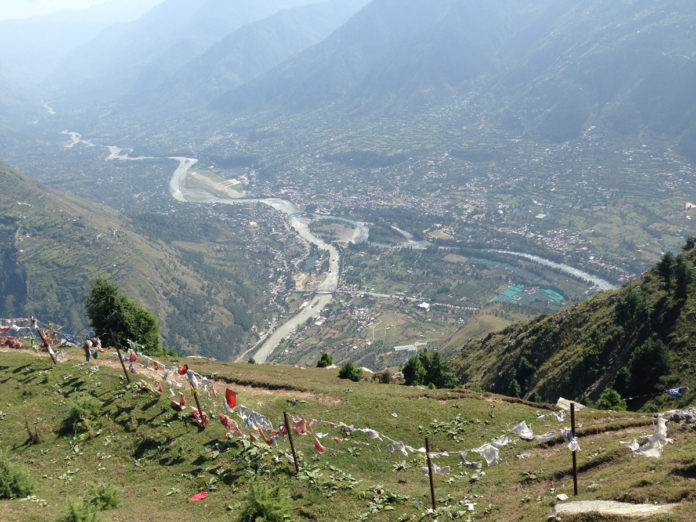 Bijli Mahadev temple located at a height of 2450m from sea level on the top of hill near Kullu in Himachal Pradesh.
---
Located 22 km from Kullu across the Beas river, it can be approached by a rewarding trek of 3 km. A panoramic view of Kullu and Paravati valleys can be seen from the temple. The 60 feet high staff of Bijli Mahadev temple glistens like a silver needle in the sun. From the top of hill you can see greater Himalaya's view, best time to visit the area is summer. Most of the visitor visit this place due to religious faith but as per nature it has abandon with beauty and offer spectacular view of surrounding areas.
Biking and cycling tours are also organize from Manali and Nagggar (On left road from Kullu to Manali) to Bijli Mahadev, you can contact tourism department of private operator if interested.
---
My Journey
It was early in the morning as we had to cover 92 km in total and which also include around 10 KM trekking which is mostly consider moderate to difficult from Kullu side. There is also an option to reach Bijli Mahadev top from Naggar which has road up to the temple but road condition is not good and in winder and rainy season, one must avoid this route as road become slippery.
After reaching Kullu, we had just 22 KM to travel but now the road become too narrow uphill, one must be highly skilled to drive such road. Buses and cars can travel up to he nearby chansari village after that its trek upto top of the hill by climbing stairs and rough trek path in the meadows and thick forest all along the way.
---
It was nice trekking experience as we had covered total 8 Km up & down, There are great views from the trek which make trekking experience more memorable. We took 2 and half hours to reach the top with many small rest on the way.
On reaching top it feel like we were in the heaven, cool and fresh wind is always blowing there some time speed of the winds become faster. Entire Kullu valley is visible from the top specially the view of Bhuntar airport is so beautiful which is clearly visible from the top, the conflux of river Parvati with Beas is also looks awesome. The other side offer the view of Parvati valley which is also visible from the top, you can also see the mighty high mountains of Himalayas from the top.
---
Over all it was a great experience of us at the top, we enjoyed a lot and spent good time out there. Some seasonable pantry shops were also there on Sept month on our visit.
The 60 feet high staff of Bijli Mahadev temple glistens like a silver needle in the sun. In this temple of lightning, it is said that the tall staff attracts the divine blessings in the form of lightning.
Best time to Visit : Summer is the best time to visit Bijli Mahadev, one can also visit after rainy season but before winter. As this place lies at height so weather is unpredictable, you must be physically fit for trek.
Where to stay : There are many hotels and guest houses at Kullu and nearby along the national highway, Manali and Naggar are also approachable from here.
---
Some pics from the trek