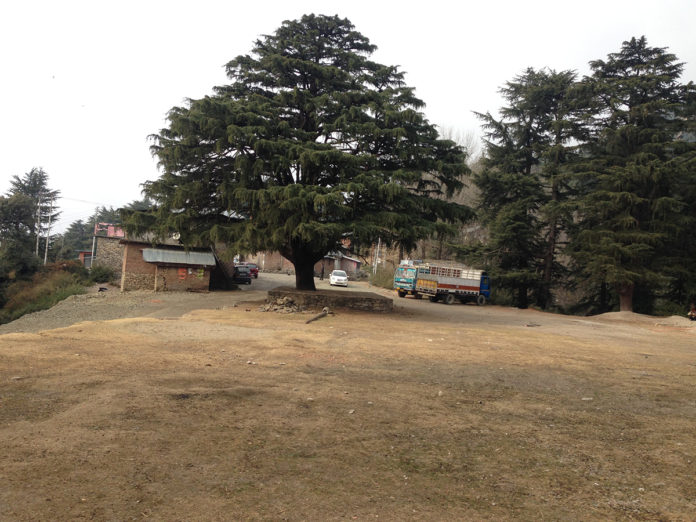 Travelling is a passion and making it happened via via is fun and adventurous. It was a great experience to visit Barot en-route via Diana Park as wonderful as exploring a virgin land.
Overall it was a great road trip and fun time with friends, photos credit goes to all of the off-road-er. I am sure this road will become famous sooner than later as it has great potential not only for adventure lover but also for regular traveler to Barot. Distance from Mandi to Barot is 65 KM via Diana Park and Jhatingri.
Here we goes……………
Mandi: We had a get together at Mandi and our destination was Barot, after purchasing fruits and foods for on the way picnic, we started around 12 noon from Mandi toward Katindhi village on Mandi-Kullu (Via kataula, IIT Mandi) road. This road is in very well condition due to IIT Campus at Kamand.
---
View of Mandi Town, Himachal Pradesh
---
Katindhi: The village Katindhi is at 12 KM from Mandi on Mandi- Kullu (via Kataula) road, we took the road to Diana Park diverging left from main road. It is a small village on the mountain edge and beautiful Prashar Lake is only 40 Km from here. Currently road is in well shape but quite narrow.
---
Katindhi To Diana Park Road
---
Diana Park: The hill top station has mythical stories behind the name Diana Park, it is said that there are fights between gods and demon once in a year at this place. Apart from these mythical local stories it is very nice place offering wonderful views of different ranges of Himalayas. There is a rest house at Diana Park maintained by Forest department of Himachal Pradesh. Diana Park is situated at approximate 1900 mtrs above sea level and this place is very windy due to its location. Diana Park can also be reached from Padhar and Drang. Approximately whole area above Katindhi to Diana Park has road over the mountain edge offering views of both sides, one side has Padhar valley and other side has high mountains.Diana Park becoming famous for day-out picnic destination among locals of Mandi, it is around 33 Km from Mandi.
---
Views from Diana Park
---
We loved the drive from Diana Park to Jhatingri, at start it was very steep upward road and has sharp turns. Total distance from Diana Park to Jhatingri is 10 Km and most of the road going through dense forest.
---
Diana Park to Jhatingri Road
---
Jhatingri: Jhatingri is a beautiful place covered with thick forest of pines at an height of 2200 mtrs above sea level. It was once the summer capital of princely state of Mandi, remains of old heritage structure can be found here. Small restaurants are setup here for frequent visitors who make a small break while travelling to Barot at Jhatingri. Phulladhar is a beautiful place near Jhatingri. The famous trek routes from from here is Jhatingri to Bir-Billing:- Jhantingiri-Phulladhar-Nakti Devi-Winch Camp-Chenna Pass-Billing 22 Km.
---
View of Jhatingri
---
We were on the same path from Jhatingri toward Barot, road condition not bad but complain-able if you are promoting a travel destination you should make top class facilities and for Himachal it is road who should be well and properly maintained to attracted mass tourist [PS: For HP Tourism Dept]. Once you had crossed the bridge on Uhl river near Tikken village you will surely love driving to barot along Uhl river and toward the end of Chuhar valley, Barot is the end point of Chuhar valley after Barot, Chota-Bhangal area of Kangra District starts.
Barot: Barot is a picnic spot and tourist location in Mandi district of Himachal Pradesh. It is situated 40 km from Jogindernagar and 66 km from Mandi. Surrounded by high mountains of Dhauladhar range of Himalayas and thick forest of Pine, Borot is good place to visit. Barot is famous for Trout fish and angling of trout in the upstream of Uhl river . Barot has one Himachal Govt run Trout fish Farm and there are several private fishing farms too. Good quality trout can be found at Barot due to cold weather and favorable condition. Barot is a frequent backpacker and day tourist destination. Many trekking trails pass through Barot, including trails to Bada Bhangal, Manali and Kullu. Most of the day tourists as attracted by the serene surroundings and cheap availability of accommodation. To read more about Barot you can check (Also for photos of Barot) article on Barot at disttmandi.com and Barot.
---
Views from Barot
---
It was a great road trip going over the hills and Chuhar valley, ideal route for bikers and cycling, there were very few vehicles on this route and it was pleasing atmosphere when we were on the way,summer is the best recommended time to visit, but can be any time of the year, clear weather can be good for photography. I will upload more pics later when I make another visit in summer, that's the good time for great photography.
Some videos(Source – Internet):
---
Few things to keep in mind, keep food items along with you and full your car's/bike's fuel tank, and most important do not liter garbage over there, contribute for Clean India initiative.
Thanks for reading and I am hoping you like the journey, keep commenting your queries and share on social media.