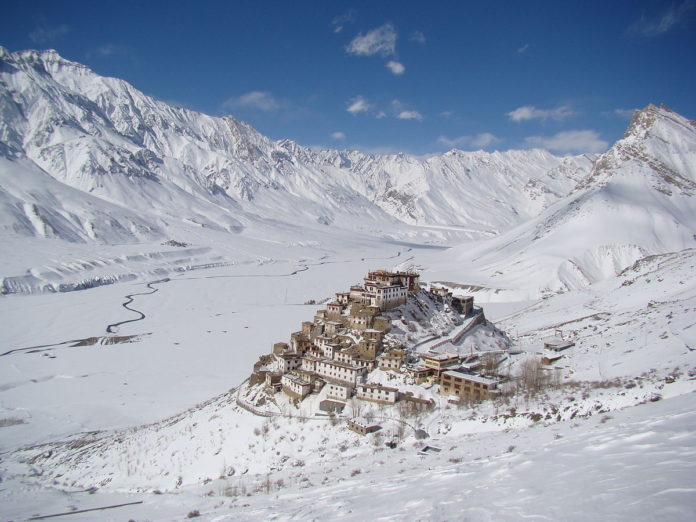 Please have a look at first part of Spiti valley. Key monastery and kibber village are must visit places of Spiti valley.
Key Monastery(4166m): or Key Gompa is also spelled Ki, Kye or Kee is a Buddhist monastery located on top of a hill at an altitude of 4,166 metres (13,668 ft) above sea level, close to the Spiti River, in the Spiti Valley of Himachal Pradesh. It is the biggest monastery of Spiti Valley and a religious training center for Lamas. It reportedly had 100 monks in 1855. There is a fair in the month of July at Key Gompa every year. Key gompa is about 12 Km from Kaza on the same road which goes to Kibber, 4 KM before there is a right diversion to monastery.
---
Kibber Village (4270m): is beautiful village at an height of 4270 meter above sea level in Spiti valley of Himachal Pradesh. Kibber also has a monastery which is situated at the highest point of the village, Kibber has all the basic facilities like civil dispensary, a high school, a post office, a telegraph office and a community TV set in the village. The highest village in the world which is connected by motor-able road(only claimed not authenticated) and is the highest all weather habitated village in the world which has its own polling station during elections. The village has around 100 houses, unique, given that they are made of stone instead of mud or adobe brick used extensively elsewhere in the Spiti valley. This scenic village is situated in a cold desert, surrounded by picturesque mountains, barren landscape, and green meadows. The landscape of Kibber is similar to that of Ladakh and Tibet. Local people are very nice and cooperative be nice to them.
A request- Please do not litter at these places and let others enjoy the Mother Nature as you did.
---
Kibber Wildlife Sanctuary: The Kibber Wildlife Sanctuary was established in 1992, which spans over an area of 2,220.12 sq.km of land.The elevation range of this sanctuary is 3,600-6,700 m above sea level. The vegetation here is sparse and have high medicinal properties. Common wildlife of the sanctuary are Ibex, Blue Sheep, Red Fox, Tibetan Woolly Hare, Himalayan Wolf, Lynx, Pika, Tibetan Wild Ass, and Snow Leopard.
---
The other villages of the region are Komic (4513 m, highest village of Asia), Hikkim (4400m), Langshu, Gete (4320m) , Tashigang (4400m) and Chicham (4220m), these villages can be treked from Kibber village.
---
Kibber – Parang la – Ladakh Trek: This trek is a famous traditional trade route of Spiti's local of 3 days over Parang la (5580m) pass to Ladakh to barter their horses for yaks or to sell for cash. Trek starts from the beautiful Spiti valley ( Kibber Village) , in Himachal Pradesh over high mountain passes to the picturesque, turquoise water lake of Tso Moriri at Korzokin Ladakh. It is one of the most beautiful trails in the Western Himalayas going over Parang La Pass (5,580 metres / 18,307 feet) with its grand views.
---
How to reach? Kibber is about 17 Km from Kaza and for Kaza details, please have a look at Kaza, Spiti valley. Buses run between Kaza and Kibber in summer, regular taxi services are also available from Kaza.
Best time to Visit : Summer is the best time to visit and realize the nature beauty. Bring warm clothes along with you. Heavy snow fall and below freezing point temperature in winter make these places inaccessible for outside world, summer is cool and pleasant.
Where to stay: Home stay options are available at Kibber village for night stay with good foods specially Tibetan food and rice and daal.
---
Video – Kaza to Batal
Photo journey of Kibber, Key gompa and Spiti valley.