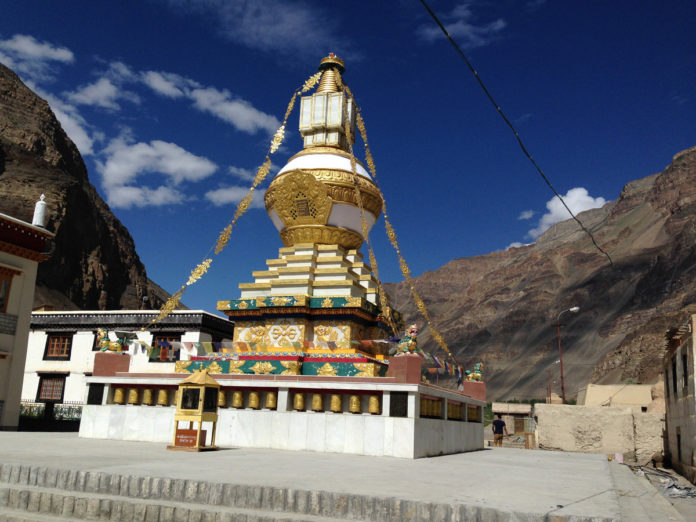 Spiti Valley of Lahul and Spiti District of Himachal Pradesh is cold desert area of Himalayas.It possesses a distinctive Buddhist culture similar to that found in the nearby Tibet and Ladakh. Spiti valley is surrounded by high mountains range and River Spiti flowing through the valley which is originated in the high mountains of Kunzum pass.Spiti valley and mountains are barren and largely devoid of a vegetative cover.
It is not just culture and natural beauty that Spiti valley offers. Trekking, camping, biking and jeep safaris are some of the activities that you can do in Spiti valley.Trekkers flock to Spiti valley attracted by its scenic mountains, enchanting landscapes, glaciers and pristine environment.
Welcome to the Land of Lamas.
---
Kaza (3650m): is the main town of Spiti valley and is known for its colorful festivals and the ancient Sakya Tangyud Monastery in a side valley, 4 km from the town. Kaza is located on the left bank of Spiti river. Kaza is well connected to the rest of the valley which make Kaza an ideal place for tourists as a base camp. Kaza has various facilities which is only available here in the whole valley like, Banks with ATM, Hospital, Petrol pump. A number of hotels, restourants, rest houses and guest houses are available at Kaza.
---
Tabo (3280m): is a small town on the bank of Spiti river in Spiti valley of Himachal Pradesh. Tabo monastery is the oldest monastery of the region, was build in 999 AD, this monastery is also known as "The Ajanta of Himalayas" with a complex that holds nine temples, 23 chortens, a monks' chamber and an extension that houses the nuns chamber. The monastery's importance can be judged from the fact that its significance is second only to the Tholing Gompa in Tibet in the entire Himalayan region. There are many small hotels and guest houses available here along with monastery's own guest house.
---
Dhankar Gompa (3894m) and Dhankar Lake: Dhankar Monastery was once the capital of Spiti in 17th century. It is one of the five main Buddhist centres and tourist destinations in Spiti region. Dhankar is situated at the confluence of Spiti and Pin Rivers. The Dhankar lake which is about 3 KM above the village in the mountain glaciers. Camping is not allowed in the lake side by locals, but it can be visited.
---
List of available treks
Pin-Parvati National Park Trek
Tabo-Mana village-Sopona Lake Trek
Kaza to Bhaba(Kinnaur district) Trek
Kaza-Langza-Hikim-Comic-Kaza Trek
Kaza-tabo-Maniragna pass Trek
Parangla Pass Trek (Spiti to Ladakh)
---
Spiti valley also know as middle land can be accessible by 2 different route one is from Manali and other is From Shimla.
Manali To Spiti Valley: Kaza is 201 Km from Manali via road but this road is winter close due to heavy snowfall and high mountains passes on the way, Rohtang pass and Kunzum pass, there are other dangers on this road, crossing the Nallahs (rivulets) can make your journey awful, some of the Nallas are very danger and uncertain, it is always advisable to cross these Nallahs early morning when water flow is must less. The highly infamous "Pagal Nallah" with mad stream and unpredictability water rise making it impossible to cross s the day progressed. Road goes along Chandra river till Batal from where upstream upto Kumzum top. At Batal you can meet the famous savior couple who ran a Dhaba there who save life of traveler in past. The first village of Spiti is Losar after that road condition is must better.
Shimla to Spiti Valley: Kaza is 403 Km from Shimla this road is also not good but can be consider good as compare to the Manali- Kaza road. Some stretches on this road are also very dangerous but as there is no passes this road is open most of the time except few months of winter. Spiti valley starts at Sumdoh which is about 327 Km from Shimla, there are many worth visiting places on this route some notable places are Shimla-Rampur-Wangtu-Karcham-Kalpa-Sapillo-Khab-Nako-Chango-Sumdoh-Tabo-Dhankar-Kaza.
---
Best time to Visit : Summer is the best time to visit and realize the nature beauty. Bring warm clothes along with you.
Where to stay : Hotels, Rest houses, guest houses and home stays are available at Tabo, Kaza and Dhankar with Indian and Tibetan foods.).
Thanks for reading, keep visiting for my blog for new journey with me.
---
Here are some of the pics of Spiti Valley.